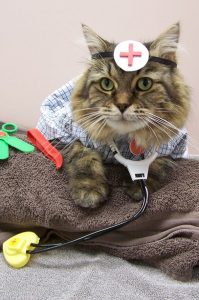 Oliver, a handsome brown tabby, was friendly, boisterous, and good-natured – he provided us with three years of affection and happiness. He loved people and was a great ambassador of the clinic. Oliver, sitting on the front desk greeting patients, and getting under our feet when running through the clinic from whatever invisible "thing" was chasing him, brought joy to all those that had the pleasure of meeting him.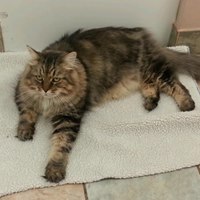 Oliver passed last week following a long fought battle with kidney disease. Shortly after being adopted by us in 2013, it was determined that Oliver had kidney disease; likely as a result of being exposed to leptospirosis while in his previous home. Oliver did very well during the past three years despite not always being the most cooperative patient.
Oliver came to Hollybank Animal Hospital after being rescued by the Humane Society from an unhealthy living environment. He was first introduced to Hollybank when he underwent dental surgery to address his severe periodontal disease. He quickly won over the hearts of the staff and he found his forever home. Oliver will be dearly missed by our staff, clients and the many patients he considered friends.
COVID-19 Message to our Clients
To Our Valued Clients,
Our top priority is to provide exceptional care to our patients while safeguarding our staff and our community.  We continue to maintain our regular business hours and we are available to see you and your pets for essential veterinary health care services.
We have been monitoring the COVID-19 situation closely and want to notify you of changes we are making at for the welfare of our staff, clients and patients. We have taken great care to implement safeguards to help reduce the spread of this virus.
Amended Procedures:
The doors to the hospital will be closed to the public
Visitors to the hospital must remain outside the hospital. This includes walk-ins, appointments and food/prescription purchases.
We will not be performing fit-n-fury, birthday exams, nail trims, routine dentals and non-essential surgeries until further advised.
We will no longer accept cash or in-person payment.
https://hollybankanimalhospital.ca/online-payments
https://avonleaanimalhospital.ca/online-payments
Admittance:
A copy of our admittance and discharge instructions and patient history forms will be sent to you prior to the scheduled appointment.
Please remain in your vehicle and call us when you arrive in the parking lot.
We will assess your Covid-19 risk using the "patient screening pathway".
When we are ready, we will motion for you to bring your pet from your vehicle to the clinic door. All dogs must be on leash and cats must be in carriers.
The veterinarian will call at the end of the examination or video conference you during the examination to discuss examination findings and recommendations.
Discharge:
You will be emailed a copy of the invoice including home notes.
Payment will be taken over the phone, via Interac e-Transfer, or online.
Any medication or items to be picked up will be given in a plastic bag at the time of discharge.
We will call you when we are ready for discharge at which time you will collect your pet outside of the clinic.
Food, inventory and medication pickup:
All items can be ordered over the phone or purchased using our online shop https://shop.avonleaanimalhospital.ca
For pickup, we will bring the items to you outside the clinic.
Product availability:
We have been in constant contact with the suppliers and manufacturers responsible for ensuring our hospitals have sufficient supply of veterinary diets and over the counter products, and we do not anticipate any disruption to this supply. However, instances of buying large quantities of these products have strained the supply chain. We respectfully request that our clients limit their purchases of these products to immediate need plus one month's supply to ensure all clients and patients have access to these products.
Our goal is to keep our essential services available to the communities we serve and to be there for you and your pets. Thank you for your cooperation and for doing your part in helping to keep pets and people safe. Please do not hesitate to call with questions. We anticipate our phone lines will be busier than usual and we thank you in advance for your patience!
Our new hours of operation are as follows:
Monday: 9a-7p
Tuesday: 9a-7p
Wednesday: 9a-7p
Thursday: 9a-7p
Friday: 9a-7p
Saturday: 9a-3p
Sunday: closed
Call us if you have questions or need to schedule an appointment.