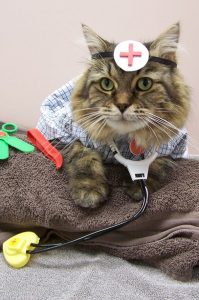 Oliver, a handsome brown tabby, was friendly, boisterous, and good-natured – he provided us with three years of affection and happiness. He loved people and was a great ambassador of the clinic. Oliver, sitting on the front desk greeting patients, and getting under our feet when running through the clinic from whatever invisible "thing" was chasing him, brought joy to all those that had the pleasure of meeting him.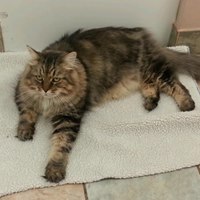 Oliver passed last week following a long fought battle with kidney disease. Shortly after being adopted by us in 2013, it was determined that Oliver had kidney disease; likely as a result of being exposed to leptospirosis while in his previous home. Oliver did very well during the past three years despite not always being the most cooperative patient.
Oliver came to Hollybank Animal Hospital after being rescued by the Humane Society from an unhealthy living environment. He was first introduced to Hollybank when he underwent dental surgery to address his severe periodontal disease. He quickly won over the hearts of the staff and he found his forever home. Oliver will be dearly missed by our staff, clients and the many patients he considered friends.
Temporary Closure of Hollybank and Modified Hours at Avonlea
https://www.avonleaanimalhospital.ca/covid-19-message-to-our-clients/
To Our Valued Clients,
Our top priority is to provide exceptional care to our patients while safeguarding our staff and our community. At this time, we are temporarily closing our Milton location, Hollybank Animal Hospital, and we will be modifying our business hours at our Mississauga location, Avonlea Animal Hospital, where we remain available to see you and your pets for essential veterinary health care services.
This is a precautionary measure and there has been NO KNOWN COVID-19 EXPOSURE. Dr. Rosely has developed a mild fever and we have elected to have the staff which recently worked closely with her to also self-isolate for 14 days as a preventative measure.
Hollybank Animal Hospital will be closed effective this evening, March 31, 2020 at 7:00pm for 14 days. We will reopen April 15th, 2020 at 8:00am. We apologize for any inconvenience this may cause.
Our Mississauga location, Avonlea Animal Hospital, will remain open during this period to continue to service our clients and patients. Our staff will be contacting you to reschedule any appointments or procedures that were scheduled during this period.
Our hours of operation at Avonlea Animal Hospital for the next 14 days will be as follows:
·       Monday: 9a-5p
·       Tuesday: 10a-6p
·       Wednesday: 9a-5p
·       Thursday: 10a-6p
·       Friday: 9a-5p
·       Saturday and Sunday: closed
We trust that you will understand our cautious approach to this matter and we thank you in advance for your cooperation.
Call us at 905-785-6966 if you have questions or need to schedule an appointment.
Sincerely,
Don Cocca
Hospital Administrator